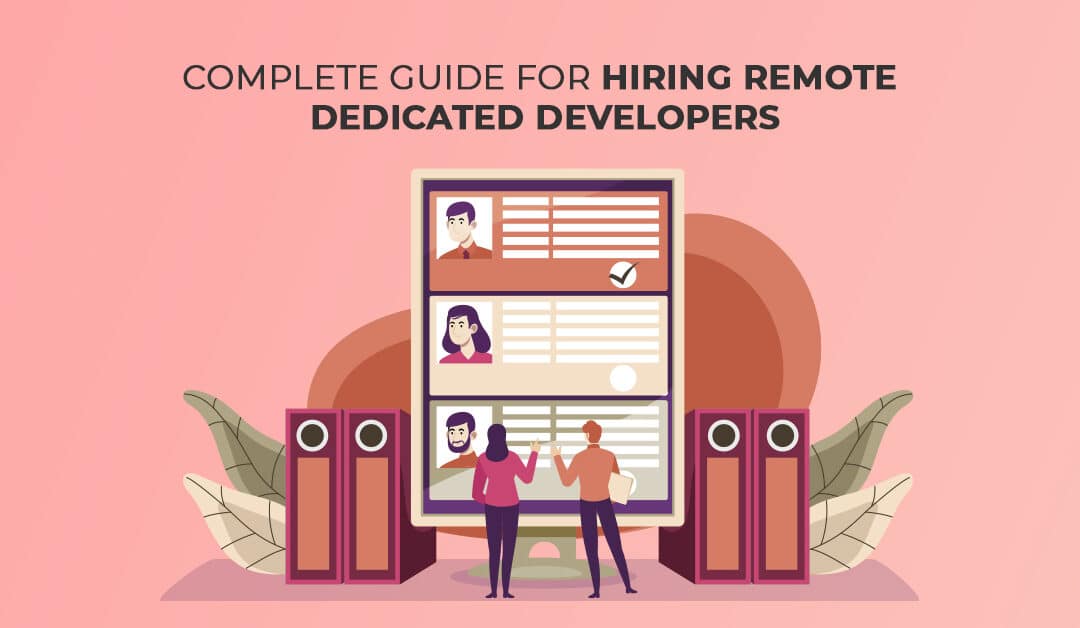 Today, every business must have an online presence, no matter what type of business you run. Nowadays, online stores and websites guarantee more sales, flexibility, and convenience. Businesses want to have their own eCommerce stores because online shopping or eCommerce is on the rise.
Business owners are attracted to eCommerce stores thanks to the many features and benefits they offer. It is not as easy as it might seem to develop an eCommerce store. The development process requires a lot of planning, decision-making, and hiring trusted developers.
Businesses and companies are rapidly moving toward hiring remote developers for software development when it comes to hiring a trusted team of developers. It is highly preferred to hire remote developers over in-house development teams, although in-house teams are capable and efficient. 
What is a Remote Dedicated Developer?
A remote developer is someone who works from a different location and operates from a distance. Unlike other employees or developers, remote developers don't have to be physically present in the same place. For their software development needs, companies hire remote developers. Business owners are increasingly turning to remote developers to build attractive websites, apps, and software.
Businesses can benefit greatly from a dedicated remote development team. You should start your search now if you are interested in hiring remote developers for your next project. You should know some of the benefits of hiring remote developers if you are still unsure.
What are the Benefits of Hiring Dedicated Remote developers for Businesses?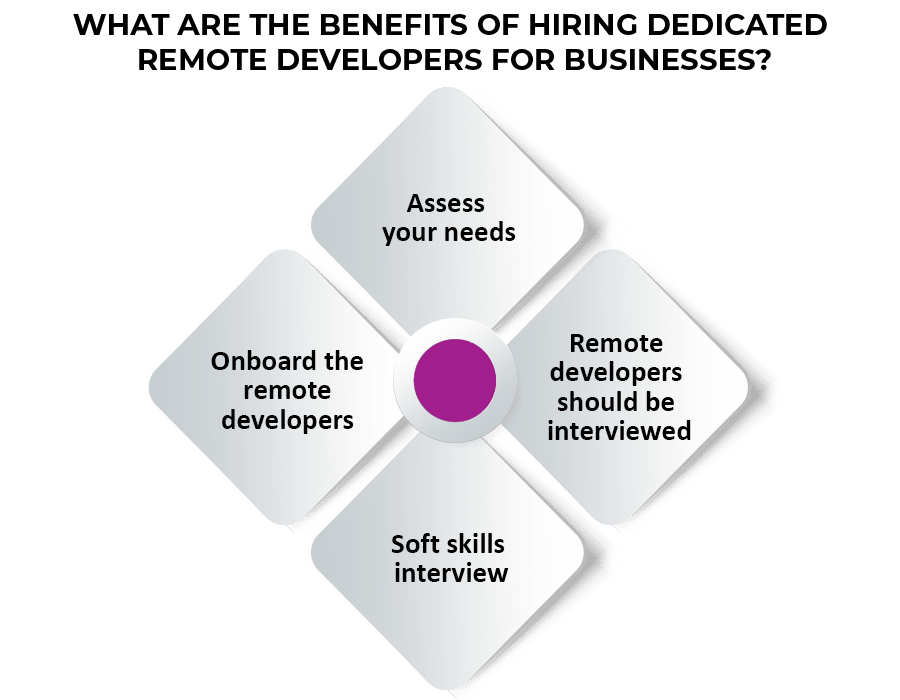 When you decide to hire remote developers for your next project, you need to follow the right steps. Following are the steps for hiring dedicated developers to help you find the right team and hire them.
Assess your needs
Identifying your needs and understanding what you need is the first step. It is important to determine which features you need and which functions will be helpful to your business. Hire remote developers with relevant skills in accordance with the features, functions, and other needs.
Remote developers should be interviewed
Interviewing potential developers for your project is the next step in hiring developers. Remote developers can be found on a variety of platforms, including LinkedIn, Upwork. You can analyze the skills of a few developers and shortlist those who seem like the best fit for your project after interviewing a few.
Soft skills interview
Make sure the remote developers you shortlist have a good understanding of their soft skills. Communication, collaboration, and time management skills should be strong in the candidate. You can offer them the job once you are confident in their abilities.
Onboard the remote developers
The remote developers can be onboarded once all the details have been finalized. Ensure that the onboarding process goes smoothly. Make sure they understand your expectations and that they are on the same page as you. Before they start working on your project, take care of all the important paperwork and documents.
How do Hiring Models Differ for Hiring Dedicated Remote Developers?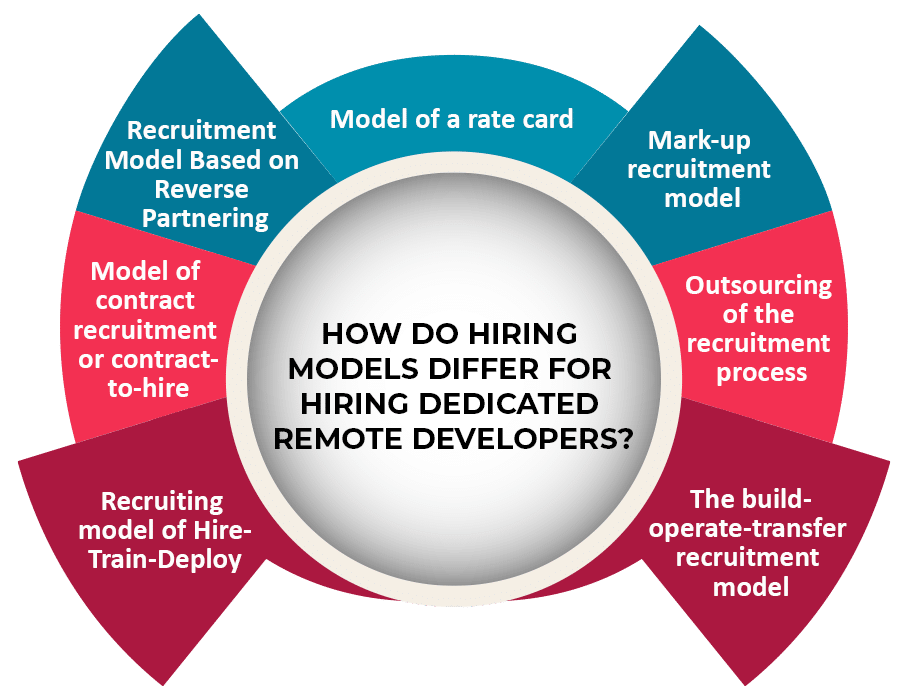 1. Model of a rate card
The rate card model works similarly to contractual staffing when a company wants to hire professional IT staff. As a well-known form of outsourcing labour, IT staffing includes app developers, graphic designers, marketers, and engineers.
Hiring managers can use this method to increase their talent pool while controlling expenditures related to employee retention.
In order to establish and maintain a professional relationship between the two agencies, each partner agency would receive a rate card.
2. Mark-up recruitment model
IT staffing mark-up recruitment is the practice of charging higher fees than what an employee would be paid on a temporary or contractual basis. As a result, the client determines the pay rate of the employee. When an open job position falls into a salary range or has an open salary, it's a good decision.
A flat rate is used for fixed wages in a regular IT company, on the other hand. Employees can be paid a fixed hourly rate, and you can rely entirely on the staffing agency to handle the payment.
In addition to the employee's compensation insurance, paid leave, and health benefits, the salary also includes the national payroll tax and local and state payroll taxes.
3. Outsourcing of the recruitment process
Recruiting Process Outsourcing (RPO) refers to a business strategy where enterprises outsource their recruitment to a third-party agency for efficiency, scalability, quality, cost, and service benefits.
For optimum talent acquisition, the best recruitment agencies combine technology, a dedicated recruitment team, and good hiring practices. Using technology, key performance indicators, and expertise, they forecast, source, assess, hire, and onboard candidates.
RPO services are especially useful for IT staffing because they offer:
Within the talent pool, the best candidates
Make sure referrals are activated
Invest less time and money in candidate sourcing
Most employment situations can be accommodated
Make decisions based on real-team insights
Engage senior leaders in recruitment
Observe the labor laws
Direct marketing should be reduced
Maintain detailed talent records in a short amount of time.
4. The build-operate-transfer recruitment model
The Build-Operate-Transfer (BOT) model involves setting up an offshore unit during the construction phase and putting it through a trial during the operational phase. You can supervise the team during the 'transfer' leg after you have verified that they have adapted the company's methodologies, procedures, and technology.
As a result, you can test out the team before making a long-term commitment to them. As a result, the offshore agency manages the team, reducing company costs and allowing more resources to be allocated to employee upskilling. Project development is reduced, available 24×7, uses the latest technology, has access to local knowledge, intellectual property rights, and increased scalability, etc.
BOT models differ from traditional recruiting, but they are both effective and accepted ways to outsource IT staffing.
5. Recruiting model of Hire-Train-Deploy
IT agencies deploy employees for specialised projects using the Hire-Train-Deploy recruitment model. According to the job description, the provider shortlists candidates who understand your company's business.
The mentoring team equips the selected candidates with resources so that they can offer better support to the experts. Candidates are further trained to work for a specific organization, which benefits their skills and the company as well.
 Hire-train-deploy is a cost-effective method for short-term or long-term IT projects, delivering high-quality results with minimal resource loss.
6. Model of contract recruitment or contract-to-hire
A contract-to-hire model involves an employee working for a company for a specified period before committing to a full-time position. Employer and employee decide whether to continue working together after the contractual period has expired.
There are many contract roles in IT, including project management, graphic design, marketing, communications, and administration.
A contractual recruitment model is great for checking compatibility levels between a company and a candidate as well as increasing job benefits. These are good for candidates who are interested in a long-term career change and who want to learn new skills.
Employers can also see if an employee fits their values, goals, and work culture before making a commitment. Even if you don't work together after the contract ends, it's great to have mutual connections with different companies.
Whenever a candidate works for a different agency in a similar industry, new business opportunities can always arise.
7. Recruitment Model Based on Reverse Partnering
Recruiting partnering means candidates find the right employer themselves and connect with them directly.
They can showcase their talents/portfolio on social media and contact hiring managers and recruiters on their LinkedIn or Facebook pages. In addition to online groups of their interest, you can find potential candidates in groups in your industry.
If We recommend meeting up over coffee to discuss a possible employment opportunity with the candidate. You are likely to find the most dedicated and engaged employees if you follow this strategy, even though it is time-consuming, labor-intensive, and experimental.
What are the Best Ways to Hire Remote Developers?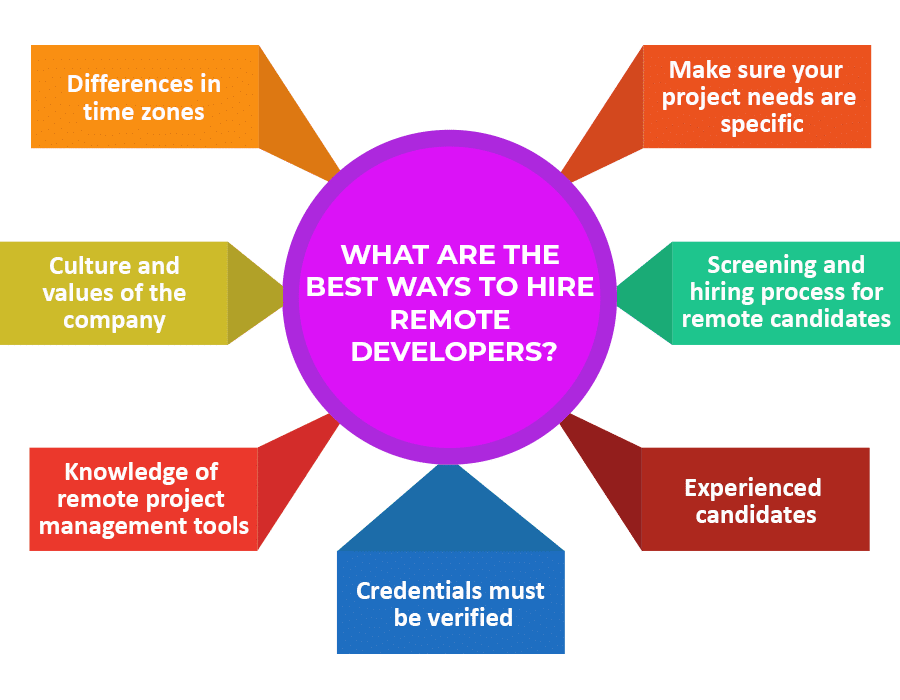 1. Make sure your project needs are specific
You must first define why you need a remote developer and what you want him to do for you or the company before exploring remote developer hiring platforms. Think about whether you need a developer on a regular basis or just for certain projects. Is an IOs developer what I am looking for? Are you an Android developer? Are you a website developer? Are you an app developer?
The skill set you need from a developer you're hiring will be determined by the needs of the project. The tech stack expertise required for different development projects varies. The right developer can help you get what you need done by knowing what you need.
Your project's scope should also be considered. A software development team may require just one developer for some projects, while others may require several. Whether you need a developer and how many developers you need, you can consult your CTO, post on tech forums, or contact us at Carmatec.
2. Screening and hiring process for remote candidates
As soon as you have a shortlist of potential developers, you need to put them through a rigorous screening process. We don't want to be tyrannical, but we want to make sure they are able to communicate well, collaborate closely, and deliver quality work.
Multistep screening is involved in this thorough process to ensure that candidates are competent, skilled, and committed. If you're offshoring the work to developers who don't speak your main language, you can check their soft skills, especially their communication skills.
You might want to converse with the developer you're considering longer if you're an English speaker and he's Indian to make sure he comprehends your instructions and can articulate his ideas effectively.
Tech skills can be tested through short-term projects supervised by your in-house technology expert. Assigning them a project requires them to explain how they plan to work on it.
3. Experienced candidates
Having prior experience with the project indicates expertise among developer candidates. Newbie developers can't be stereotyped as incompetent, but those with previous experience know what processes to take, what to prioritize, how to handle blockers, and all the ups and downs of the process.
In addition, developers with previous experience are familiar with dealing with other employees. Consequently, they have a good idea of the prerequisites and policies they need to follow.
4. Credentials must be verified
For developers with previous work experience, verifying credentials is a breeze since they can list a name and number. To make sure you're hiring a good developer, check their references for work history.
However, you must always consider your organization's safety from preventable threats when hiring a remote developer. The criminal records of some potential applicants may jeopardize your business.
5. Knowledge of remote project management tools
Besides having knowledge of technical tools, potential developers also need to know how to use project management and communication tools, which will keep you informed and allow you to communicate clearly timetables even if you cannot physically monitor them, especially if they are a thousand miles away.
They need to know how to use tools such as Google Docs and Gmail. So with:
Skype, Zoom, Slack are all communication tools
IFTTT or Zapier are automation tools
Tools for collaboration such as Asana, Basecamp, Jira, Wrike, and Trello
Tools for storing and sharing files, such as Box and Dropbox
6. Culture and values of the company
In order to ensure good collaboration between you and the tech talent, you must align your values and culture. The assessment test will ensure compatibility and good working conditions in addition to introducing your company's values and culture.
7. Differences in time zones
Whether you need an offshore or nearshore developer, chances are you'll find one. Team meetings in such cases need to be arranged in a way that suits both parties.
 You will also be able to manage your expectations of their response time when you communicate with them by considering time zone differences.
The Advantages of Hiring Dedicated Remote Developers from a Full-Service Agency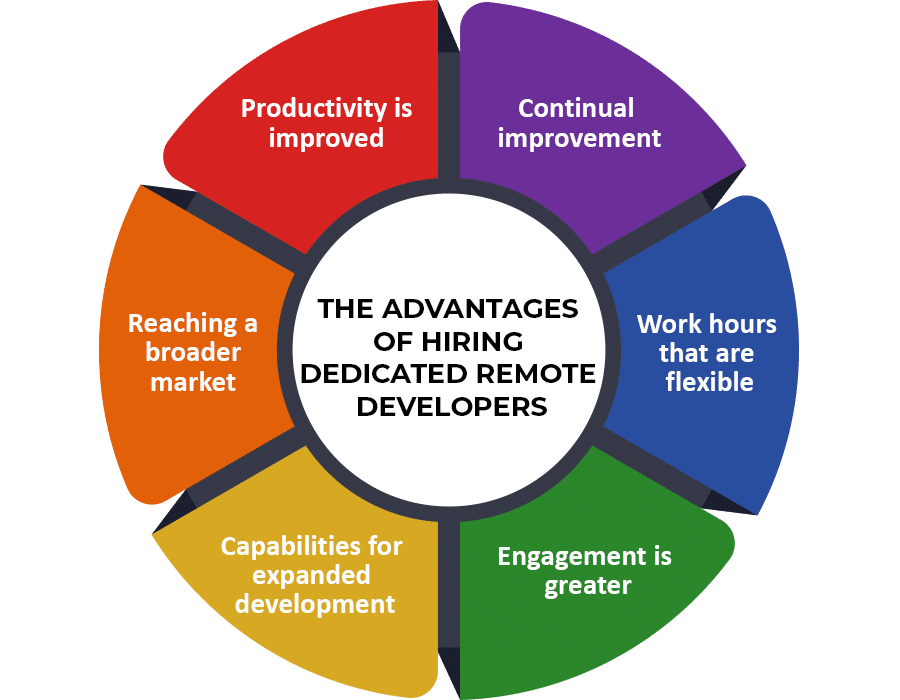 Continual improvement
A Your project is developed by a dedicated team of remote software developers. There is no limit to the number of experts who can be part of a remote team, as they can work from different locations – across different time zones. You can be sure that expert talent is working around the clock on your company's product development.
Work hours that are flexible
The work schedule of professional remote software developers is strict, allowing them to achieve the perfect work-life balance. Employees who are happy will give you high-quality work and are more productive.
Engagement is greater
Studies have shown that remote workers are happier since they can decide where and when to work. They become more engaged as a result, and engaged workers are up to 21% more productive.
Remote workers in an office setting can also feel more engaged and connected with video conferencing.
Capabilities for expanded development
You can hire a team of developers with varying capabilities, skills, and specializations when you hire a remote team. A team of in-house employees can't provide that kind of variety.
Reaching a broader market
A remote developer acts as a brand ambassador for your company while working on product development. This is a great way to indirectly expand your market reach by promoting your products in their area.
Productivity is improved
Due to the flexibility of remote working, remote workers are more productive than office workers.
In addition to improving productivity, remote developers are able to take on more projects at software companies.
Get Dedicated Remote Developers from Carmatec
Carmatec is the best company to hire a dedicated remote development team in India if you are intrigued by the benefits of hiring remote developers. Our team of remote developers is dedicated to developing great web apps with their skills. With Carmatec's remote teams, you will be on the path to success and will stand out from the crowd.
Now that you know what you need to do, what are you waiting for? Invest in dedicated remote developers from us and let us help you develop high-quality web apps. We are already looking forward to working with you through our remote development team.