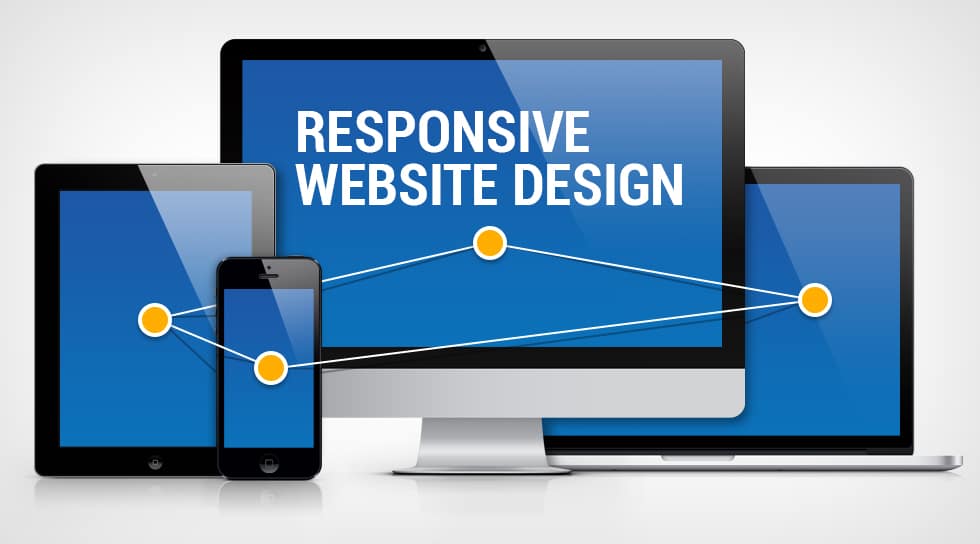 In the recent years, the use of smartphones has rapidly increased. On 21st April 2015, Google released a new search algorithm known as Mobilegeddon, which designed to improve the mobile user experience. So, Mobile-friendliness is now treated as one of the ranking factors. 
After this update, many business websites switched to the mobile friendly pages as mobile traffic has increased with the number of smartphone users and this was globally exceeding 2 billion in 2016. In fact, according to a survey, almost 90% of all online searches now come from smartphones.
For all these reasons, your website must have a responsive web design.
Importance Of Responsive Web Design
Responsive web design simply means a website that has created in such a way that all of the content, images, and structure of the website will remain the same and adjust on any devices whether it is a desktop monitor, laptop, smartphone, or tablet. For example, when a user opens a website on their desktop, he sees the full view of the website. But when that same user opens that same website on their smartphone or tablet, the website will adjust to fit on the smaller screen also.
This literally means the web pages should respond according to the user's behavior. With proper mobile  responsive website, you don't have to create multiple web pages for various devices. This will make sure that your website runs properly on the all the possible devices.
There are some other important benefits of having a responsive website for your business like:
Good For SEO
One of the most important advantage of having a responsive web page is increased user interaction which further helps in improving the search engine ranking of  your website. When users starting to stay on your site because of the best UI UX design on your website, the search engines will automatically starts to rank your web page or site higher in the search results. Responsive web design is now became an important ranking factor of a website. 
Improved User Experience
When the visitors on your site finds that your website or a web page is effectively works according to their preferences, then they will start spending more time on it. Responsive web design will ensure a great user experience for your visitors which will increase your brand's credibility in high quality.
Increase in Traffic
According to traffic statistics, almost 80% of all online searches come from mobile devices. This only shows how it is important to have a website that fits properly on all mobile devices. By having a responsive web design, you will notice the increment in the number of your visitors & also the time they spend on it.
Higher Conversion Rate
In research, we find that the smartphone conversion rates were about 64% higher than desktop conversion rates. So, developing a responsive web page with good UI UX experience is the key for higher conversion rate. If your visitors spend more time on your website, then they will build trust and also they will return to you in the future for more business and this will leads to a higher conversion rate for your business.
Responsive web design helps you to increase the reach to consumers even on smaller devices also (smartphones, tablets). It also maintains a consistent UI UX experience which can help your business by increasing the high retention, lead generation, sales & conversions. It will also help your business to stay ahead of your competitors.